The Dstrezzed
Selvedge denim
A premium quality of craftsmanship with a comfort stretch for the modern gent of today. Created by the masters of denim, The Italian mill Candiani, together we present an unparalleled quality of fabric and with an unique eye for detail, a selvedge denim that will last you a lifetime.
The selvedge fit of the moment: Gent D, a loose taper with double D octagon branding revealed. A true manifestation of our dedication to craftsmanship and eye for detail. Woven on the time-honored shuttle loom by our friends of Candiani. The fabric even belongs to their Rivetto d'oro, the golden rivet collection, often referred to as the top of the top. Created by us and made by you. Start your selvedge journey today.


'Give it some time. 
Wear it, don't wash it.
Feel it, don't force it.
Leave it, don't expect it.'

But most of all, have your best moments in it. Create memories with your brothers that are worth remembering forever. Your blue best friend will be the reminder of all the good times.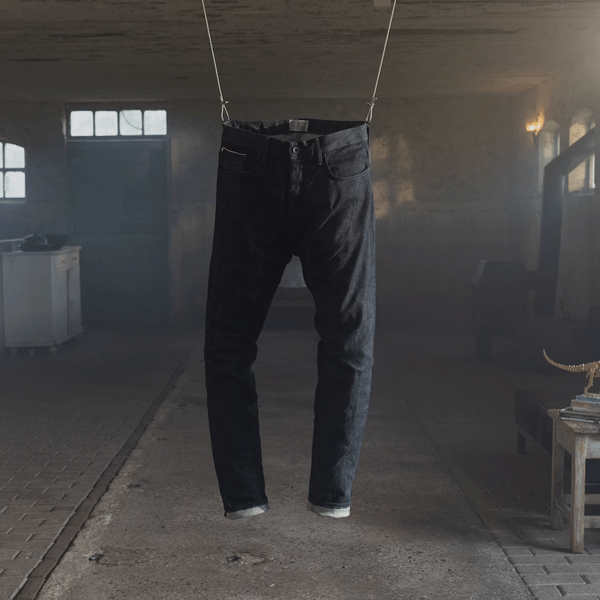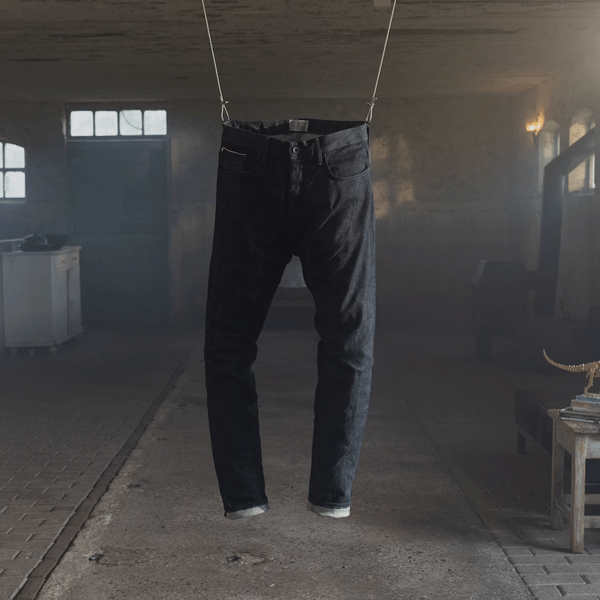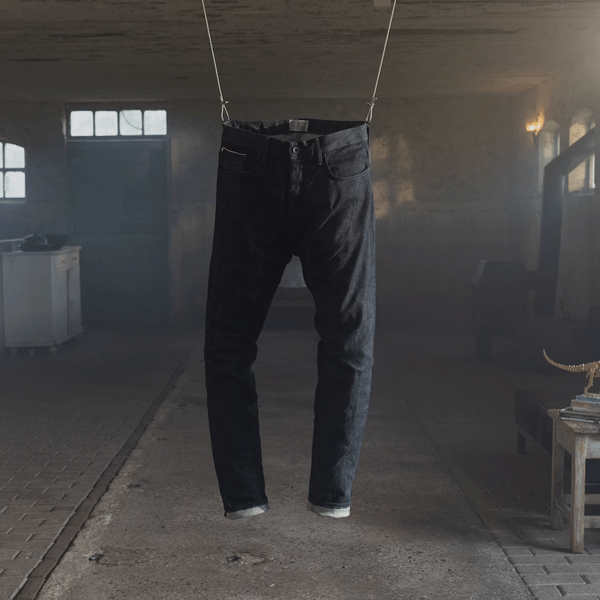 Selvedge knowledge
Some nerdy stuff first
Selvedge denim is the name for a higher quality, harder to produce type of denim that usually (but not always) remains unwashed; you might have heard the term "dry denim" before.

Colored with Indigo juice for easy fading, and unwashed for that iconic selvedge crisp feel, this denim is ready for you to create your own blueprint.
Why we love it
Selvedge denim allows you to tell your own story. The denim starts off rigid, but over time it bends, breaks and molds to your unique body. The things you do often, like putting your phone in your front pocket or tucking your wallet in the back, along with every movement you make, leave a lasting imprint on the fabric as the indigo slowly fades away. Eventually, it evolves into the most personal item within your wardrobe. However, creating this authentic piece of denim requires patience.
The Dry Selvedge
The fabric used in crafting Dstrezzed selvedge originates from Candiani and is dyed with patented Indigo Juice®, a formulation that facilitates quicker fading compared to conventional indigo. Please note that this dye may transfer onto lighter-colored fabrics, (so we advice to opt for darker boxers when wearing these jeans). Additionally, we have innovated the selvedge by incorporating a degradable comfort stretch, offering a level of comfort beyond the traditional rigidity associated with selvedge – The level of comfort you're familiar with from us.
After 182 days of time
We enlisted 30 gents to participate in the initial release of the Dstrezzed Selvedge denim. Over six months, they lived in their selvedge jeans, embracing their unique journeys and imbuing the denim with their individuality. Out of thirty blue brotherhood fighters, this one came out on top- an authentic masterpiece, in our opinion. Crafted through a captivating journey, this denim carries a unique narrative etched into its very fibers. These aren't just patterns; they're imprints of your adventures. With limited availability, owning a Selvedge means creating your own story.
A guideline for washing your Selvedge
Wear your Selvedge jeans for a minimum of 6 months before the initial wash, (wash your Selvedge only when they absolutely need it). If you desire those eye-catching honeycombs and whiskers, it's crucial for those folds to embed themselves deeply in the denim. Washing the Selvedge either prematurely or too frequently will hinder your efforts.

Following the initial wash, aim to allow several months of wear before each wash. The more extended the interval between washes, the more favorable the results.


'Embrace the art of caring
for Selvedge denim,
within its journey awaits the
priceless reward of enduring style.'
Flip your jeans inside out to safeguard against color bleeding and achieve a consistently balanced fade.
There are certain tasks in life best-tackled solo, and washing Selvedge jeans is undoubtedly one of them. Dry denim releases blue dye, which can spell disaster for anything lighter in color that shares the wash. You'll likely only make this mistake once…
For washing your Selvedge jeans, it's recommended to do it by hand. This approach reduces the strain on the fabric. Your hands can gauge the water temperature accurately, preventing it from becoming too hot.

Give it around 45 minutes.
Immerse the Selvedge jeans completely. Should they happen to float, add a weighty object to keep them submerged. Let them soak within the water. There's no need for further attention at this stage. Carry on with your tasks, perhaps even prepare a cup of coffee.
To wash your Selvedge jeans in the washing machine, use short program and a gentle cycle with a temperature of 30 degrees Celsius and a low RPM setting to avoid shrinking and friction.
Allow the detergent to dissolve completely before immersing the Selvedge jeans. Avoid excessive use- extra detergent attracts dirt due to interaction with body oils and sweat, leading to odor buildup. Alternatively, try a mix of 1 cup vinegar and 1 tbsp salt. Enthusiasts also hold the belief that this method enhances the longevity of the indigo dye within the fabric.
You have several methods to choose from. Lay them flat, place them on a towel for water absorption, or hang them in the shower to drip dry. Alternatively, outdoors or in a space with good airflow. Remember to avoid direct sunlight exposure.
While it might be tempting to twist and wring wet jeans, don't do it! Wringing can damage and weaken the fibers. Instead, gently roll them up and apply firm pressure to release excess water.