The blue line
DSTREZZED DENIM

For 150 years, denim has been in the working man's wardrobe. Starting off as a sturdy, rigid textile to clothe the hard-working Americans employed in factories doing heavy work, decades of washes, fits, and trends have seen denim transform into the icon of a modern gents wardrobe.


'There's nothing more iconic than those baby blues.'
We offer premium styles denim that guarantees comfort without ever compromising on style for each and every member of the brotherhood. Whether you're on dad duty, or heading for a beer with the boys, or trying to get lucky in the club – our denim collection will have you feeling like anything is possible. 


Denim icons: The Mr. E, The Sir B and the Gent D.
Chosen for their timeless style, these denim icons live on season through season. The Mr. E - Slim fit, the Sir B - Tapered fit and The Gent D - Loose fit.

The slim, tapered and loose denim have a waistband that is cut in such a way to keep the jeans in place at all times. No more awkward sliding down situations and exposing parts you'd rather not, or wearing a belt that gives you an additional obstacle at times…


Slim fit 
The Mr. E
Slim fit jeans conquer the denim world for their ability to suit a wide range of body types and outfit choices. Our slim fit denim gets its character from the sophisticated, welted buttonhole on the coin pocket, and the well-placed back pockets. 
Tapered fit
The Sir B
A style built with comfort in mind, the tapered denim allows for a wider leg at the seat and a narrow bottom which gives it the comfort feel. Our tapered denim is finished with an iconic rivet on the coin pocket and back pockets placed slightly lower to accentuate the relaxed look.
Loose Tapered fit
The Gent D
A loose top block gives more space on the upper legs and surrounding area. The tapered leg keeps the look tidy, while the lower placed back pockets suggest a relaxed look and feel. Design details give this denim an elevated edge: from an Italian leather patch with a brass logo, and an octagon detail on the coin pocket, to carefully constructed seams (such as a chain stitched inside hem, inner felted seams and a well finished seam side in brand colors).
Unique washes
Each season, we introduce five new denims with different washes in line with contemporary looks of today – that means you could wear a different denim to work everyday ;) Our rebellious nature means that we let classic indigo washes take a backseat, and instead we go for a fusion of colors to give a unique wash you won't find anywhere else.
Quality fabrics
Our denim is made with cotton and a varying % of stretch (depending on the denim) to give you the feeling you're in your sweatpants, but always looking smart. Creating comfortable clothing so you can feel free to do the things you love, is a priority in our design process. We make sure we test our denims internally to make sure comfort is not compromised.
An eye for detail 
When it comes to denim, it's the details that give it that extra bit of flair and show off craftsmanship. All of our denims have: Durable Herringbone linings, Reinforcements, A well-finished side seam and finally, the iconic 3D octagon branding on the right back pocket. There are some denims in the collection that are woven in the left-hand technique.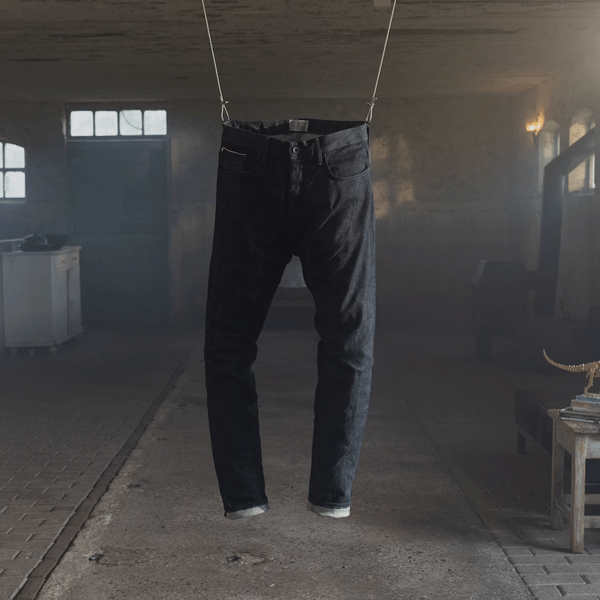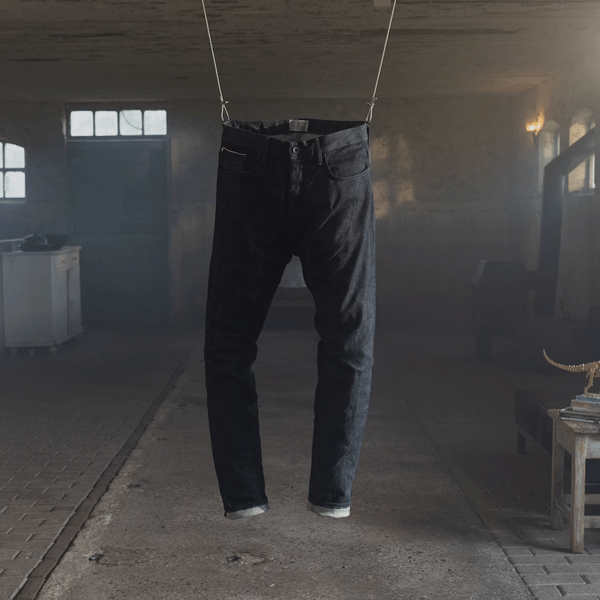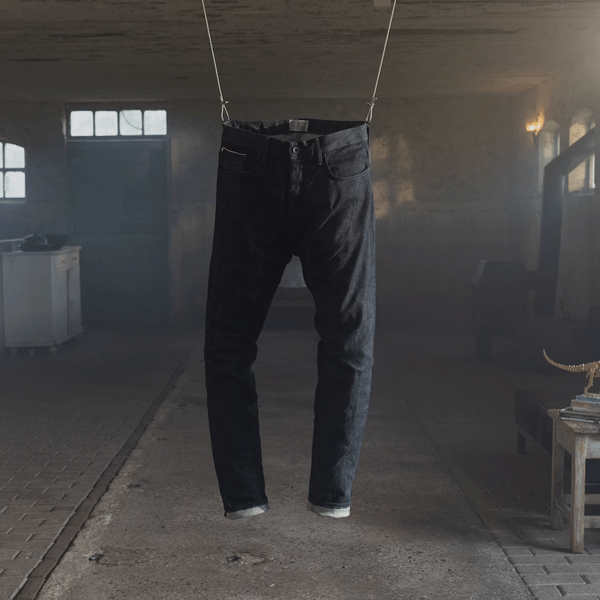 A premium quality of craftsmanship
The Selvedge Denim
Discover more

This season we proudly present our first-ever Selvedge denim in the Gent D - Loose Tapered Fit. A true manifestation of our dedication to craftsmanship and eye for detail. Woven on the time-honored shuttle loom by our friends of Candiani. The fabric even belongs to their Rivetto d'oro, the golden rivet collection, often referred to as the top of the top.
Dstrezzed X Candiani
Among denim lovers and beyond, Candiani is a sign of premium and sustainable denim. The denim industry is notorious for its polluting nature but with mills like Candiani, we engage in more sustainable practices to clean up and minimize our footprint where we can. 

Since 1938, Candiani has been a pioneer and innovator in the denim world, from its unique location between Milan and the Alps giving it access to a rich biodiversity, to developing fabrics and washes that reduce material, water and chemical use – without ever compromising on craftsmanship. Candiani's commitment to sourcing as locally as possible further reduces environmental impact and guarantees Italian fabrics – the best in the industry.


'Our long-term partnership with the greenest mill in the blue world.'

We are proud to work with such a partner to create conscious denim of a premium quality that will stand the test of time. You can easily recognize our blue line, Dstrezzed x Candiani denim by the unique hangtags and label on the jean pocket. This is a partnership we will continue to nurture and bring back into returning collections.